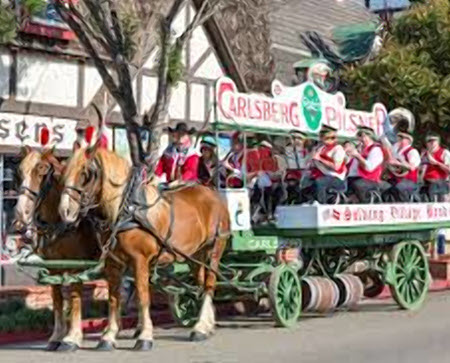 Solvang is a city nestled in California's Santa Ynez Valley. It's known for its Danish-style architecture which looks and smells like Christmas year-round with twinkling lights at night and baked goods served fresh every morning.
You can take a walk along Mission Drive, the main street in town, to Solvang park with its beautiful green lawn and cute little gazebo. Wander the avenues, walkways and you might see  a 1915 replica Honen (Danish for little hen) trolley pulled by Belgian draft horses as they pass by the boutique shops, wine tasting rooms, Danish bakeries, International restaurants, and the windmills of Solvang.
Shop your way through town for authentic gifts like wooden shoes, cuckoo clocks and unique clothing. Along the way, stop by a few of the local bakeries and confectionaries for tasty traditional Danish treats like aebleskiver (pronounced able-skeevers) fluffy, donut hole-type treats served with raspberry jam.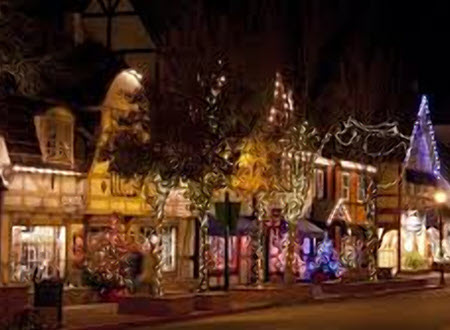 Offering in-person and online therapy for Solvang and The Santa Ynez Valley, Iliana is committed to help women heal from relational trauma, anxiety, and help with relationship issues. Our approach to therapy comes from a place of collaboration and curiosity based on the latest trauma and neuroscience research.
Iliana has extensive clinical training on Somatic Therapy and she is certified on Attachment EMDR (Eye Movement and Desensitization and Reprocessing) which have been proven treatment methods to help clients heal the root cause of their struggles for lasting results.
Contact me to schedule your free 20-minute consultation to learn more about my services.
THERAPY SERVICES IN SOLVANG
ANXIETY THERAPY
It may feel impossible now, but you can manage and reduce your anxiety. You can start to trust yourself. You can learn how to say no. You can feel confident about your decisions. And I can help you get there.
Learn more about Anxiety Therapy
RELATIONSHIP ISSUES THERAPY 
It may feel impossible now, but you can have healthy and fulfilling relationships. You can make sense of your worries about your relationship. You can be yourself, even in your intimate relationships. And I can help you get there. 
Learn more about Relationship Issues Therapy
RELATIONAL TRAUMA THERAPY
Relational Trauma Therapy can help you manage your emotions and feel in control. You can put your needs at the top of your list. You can have fulfilling relationships. And I can help you get there.
ILIANA GELLES, MFT THERAPY
Address: 684 Alamo, Pinto, Rd., Solvang, CA 93463
Phone: (805) 430-4277
Iliana Gelles, LMFT specializes in Anxiety, Trauma, and Relational Issues and helps women feel more connected healing their struggles from the inside out.